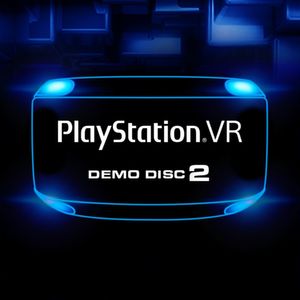 Jump into breathtaking virtual reality experiences with this collection of immersive PlayStation®VR playable demos.
Téléchargez dès maintenant et découvrez :
Battlezone®
EVE: Valkyrie
Moss
Star Child
The Persistence
Thumper
Tiny Trax
Dino Frontier *
Fantastic Contraption *
Job Simulator *
Raw Data *
Rez Infinite
*PlayStation®Move requis
REMARQUE IMPORTANTE :
Vous devez posséder le casque PlayStation®VR et la caméra PlayStation®Camera pour jouer à ces démos.
PAL HD 720p,1080i,1080p
Manette de détection de mouvements PlayStation®Move et caméra PlayStation®Camera facultatives.
Le casque PlayStation®VR et la caméra PlayStation®Camera sont nécessaires pour jouer à ce produit.

© 2017 Sony Interactive Entertainment LLC. " " and "PlayStation" are registered trademarks of Sony Interactive Entertainment Inc. PlayStation®VR Demo Disc 2 uses the Unreal® Engine. Unreal® is a registered trademark of Epic Games, Inc. Unreal® Engine, Copyright 1998 – 2017, Epic Games, Inc. All rights reserved. All rights to the copyrights and trademarks are reserved by respective owners.
Suite…

Sous-titres : de, no, fi, sv, ru, pt, en, it, fr, es, pl, da, tr, nl