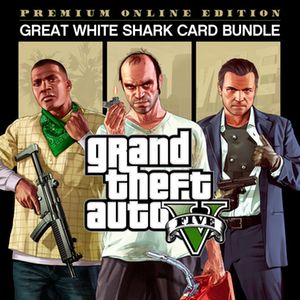 Achetez ce bundle pour obtenir Grand Theft Auto V, le Pack d'entrée dans le monde criminel ainsi qu'un paquet de dollars Great White Shark d'une valeur de 1 250 000 GTA$ à dépenser dans GTA Online. Ne l'achetez pas si vous possédez déjà ce pack.
Le Pack d'entrée dans le monde criminel inclut :
1 000 000 GTA$ bonus
Propriétés :
Bureau
Bunker de Trafic d'armes
Usine de fausse monnaie
QG de motards
Appartement
Garage 10 places
Véhicules :
Dune FAV
Maibatsu Frogger
Enus Windsor
Obey Omnis
Coquette classique
Turismo R
Pegassi Vortex
Huntley S
Western Zombie chopper
Banshee
Armes et plus :
Lance-grenades compact
Fusil à lunette
Fusil compact
Tenues et tatouages
Ce contenu n'est accessible que dans GTA Online, sera indiqué comme GRATUIT en jeu et n'a aucune valeur monétaire, véhicules y compris. Après installation, lancez GTA Online et suivez les instructions pour récupérer vos objets depuis les boutiques et sites en jeu.
Achats dans le jeu en option
2-30 joueurs en réseau - L'abonnement à PlayStation®Plus est requis pour accéder au mode multijoueur en ligne du jeu complet
50MB minimum
Prise en charge de la lecture à distance
PAL HD 720p,1080i,1080p

You must accept the software license terms available at rockstargames.com/eula online account terms at rockstargames.com/socialclub. Non-transferable access to special features such as exclusive/unlockable/downloadable/online content, services, or functions, such as multiplayer services or bonus content, may require single-use serial code, additional fee, and/or online account registration (13+). Access to special features may require internet connection, may not be available to all users or at all times, and may, upon 30 days notice, be terminated, modified, or offered under different terms. Violation of EULA, Code of Conduct, or other policies may result in restriction or termination of access to game or online account. For customer & tech support visit rockstargames.com/support. Certain limits apply to purchase, use, and redemption. See EULA www.rockstargames.com/eula and Terms of Service www.rockstargames.com/legal for details.
Suite…

Voix : en
Sous-titres : de, ru, pt, es_MX, en, it, fr, pl, es
Joueurs en ligne
2 à 30
PlayStation Plus requis