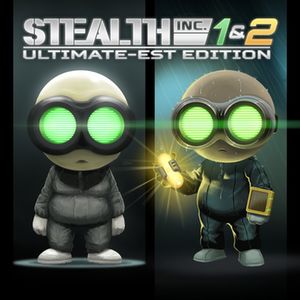 Stealth Inc 1 & 2 Ultimate-est Edition est la plus complète des façons de profiter de cette série primée sur PlayStation®, avec les deux jeux et tout leur contenu téléchargeable.
Stealth Inc est un jeu de plateforme et d'infiltration rythmé proposant dangers brutaux, ennemis impitoyables et énigmes vicieuses.
Avec des vies infinies et un nouvel essai disponible instantanément, les joueurs sont poussés à apprendre de leurs inéluctables morts pour franchir les lasers, les robots assassins et les boss terrifiants.
Si vous n'avez jamais joué à Stealth Inc, cette édition est le meilleur moyen de s'y mettre, avec plus de 180 niveaux parmi les titres suivants :
- Stealth Inc: A Clone in the Dark
- Stealth Inc: The Teleporter Chambers (DLC)
- Stealth Inc: The Lost Clones (DLC)
- Stealth Inc: Ultimate Edition
- Stealth Inc 2: A Game of Clones
Ce produit Cross-Buy vous permet de télécharger les versions PS3 , PS4 et 'PS Vita'.
Vita
Minimum Save Size 4695 KB
Touchscreen
Dual Analog Sticks
PS4
1 player
HDD 230 + 370 MB Minimum
Remote Play Supported
HD Video Output: 720p, 1080i, 1080p
PS3
1 player
Network Features
Minimum Save Size 5MB
DUALSHOCK®3
HDTV screen resolution: 720p, 1080i, 1080p

Stealth Inc & © Curve Digital.
Stealth Inc 2 & © Curve Digital.
Suite…

Sous-titres : de, en, it, fr, es