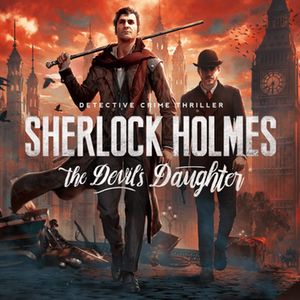 Sherlock Holmes: The Devil's Daughter est un jeu d'aventure fantastique proposant un gameplay unique mêlant investigation, action et exploration, pour une expérience exceptionnelle qui mettra votre intelligence et vos nerfs à rude épreuve.
Dans la peau du plus grand des détectives, traquez le mal jusque dans les bas-fonds de Londres et de l'âme humaine et démêlez les fils de multiples intrigues jusqu'à l'incroyable révélation finale.
Chacune de vos déductions et de vos actions oriente la suite de l'histoire, pour le meilleur, ou pour le pire…
Incarnez Sherlock Holmes et utilisez ses capacités exceptionnelles pour progresser dans l'aventure. Explorez librement plusieurs quartiers de la ville à la recherche d'indices et de suspects. Interrogatoires, combats, poursuites, infiltrations… découvrez un jeu unique en son genre !
16GB minimum
Prise en charge de la lecture à distance
PAL HD 720p,1080i,1080p

©2016 Published by Bigben Interactive S.A. and developed by Frogwares. Published under license and authorization of Frogwares. All rights reserved. Sherlock Holmes, Frogwares and their respective logos are trademarks of Frogwares. All other trademarks, logos and copyrights are property of their respective owners.
Suite…

Voix : de, en, fr
Sous-titres : de, ru, en, it, pt_BR, fr, pl, es